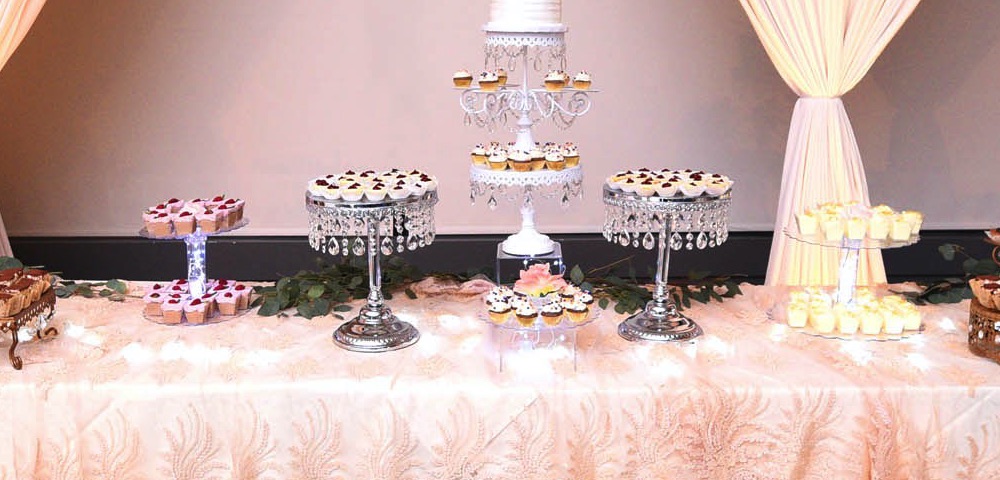 All Inclusive Dessert Tables
Our All Inclusive Dessert Tables are the easiest option for your event. All packages include consultation, custom design, display rentals trays, stands, labels, set up and breakdown. Floral arrangements, balloons and custom backdrops are available for an additional fee.
Delivery fee depends on location.
Do you have your own display stands? Fantastic! If you bring your own trays, we will give you a $50 discount in every package and we will even set up the table for you, how great is that!!!
Any dessert tables can be customized to your theme colors.

Sweet Treat $250
2 Dz Chocolate Oreos
2 Dz Strawberry or Choc. Mousse
2 Dz Chocolate Pretzel Rods
4 Dz Mini Cupcakes
Sweet Tooth $350
2 Dz Choc. Strawberries
2 Dz Choc. Pretzel Rods
4 Dz Mini Cupcakes
4 Candy Jars
6" Rosette Cake
(Serves 12 guests approx)
Sweet Fantasy $500
4 Dz Strawberry Mousse
4 Dz Chocolate Strawberries
4 Dz Mini Cheesecake Bites
8 Dz Mini Cupcakes
Sweet Creations $750
2 Dz Sugar Cookies
4 Dz Tiramisu Bites
4 Dz Fruit Tarts
6 Dz Mini Cupcakes
6 Dz Choc. Pretzel Rods
6 Dz Oroes & Milk Shooters
Sugarland $1250
4 Dz Choc. Strawberries
8 Dz Mini Cupcakes
8 Dz Cupcakes
8 Dz Choc. Pretzel Rods
8 Dz Macarons
8 Candy Jars
6" Cake
Attendant included for 2hrs
Sugar Dream $1750
4 Dz Sugar Cookies
4 Dz Choc. Chip cookies
5 Dz Tiramisu Bites
5 Dz Cheesecake Bites
5 Dz Mini Fruit Tarts
6 Dz Macarons
10 Dz Mini Cupcakes
10 Dz Cupcakes
8-10 Candy Jars
8" Cake
Attendant included for 2hrs
Sugarland +Backdrop
$1250
4 Dz Choc. Strawberries
5 Dz Mini Cupcakes
5 Dz Cupcakes
5 Dz Choc. Pretzel Rods
5 Dz Macarons
6 Candy Jars
6" Cake
Attendant included for 2hrs
Custom Backdrop up to 7ft
Sugar Dream + Backdrop
$1750
2 Dz Sugar Cookies
3 Dz Choc. Chip cookies
4 Dz Tiramisu Bites
4 Dz Cheesecake Bites
4 Dz Mini Fruit Tarts
5 Dz Macarons
6 Dz Mini Cupcakes
6 Dz Cupcakes
8-10 Candy Jars
8" Cake
Attendant included for 2hrs
Custom Backdrop up to 7ft